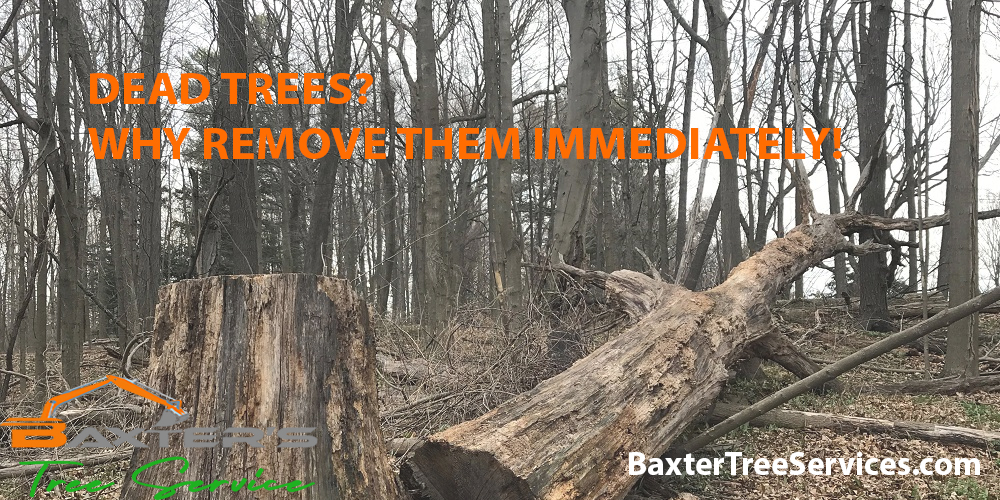 Fallen and dead trees pose a significant environmental problem in many areas, often impacting roadways and causing safety issues for pedestrians and motorists. While the removal of dead trees is the responsibility of individual residents, the planning of new road projects often determines how far back landscaping should be removed.
How to do it yourself
Consumers often attempt to remove dead trees on their own. However, this is often a dangerous or extremely unsightly process. Installing a chainsaw at an angle is very dangerous, and usually requires an expert who is a safe distance away. Taking a chainsaw out onto the road is unsafe, and using one is not recommended. The recommendation is to use services from tree removal and tree excavation service providers. More specifically, Baxter's tree services are best for the removal and excavation of dead trees only.
Below are some reasons to consider removing dead or fallen trees using tree removal professionals. Baxter's tree services is providing the service in terms of removing dead trees.
1. Reduce the potential for wildfires
Damage to dead and damaged trees from a wildfire can have dangerous consequences to property and safety. If the tree is older, if it has been weakened by lightning strikes, or if it is diseased, it could create an explosive situation that may cause more damage than it prevents.
2. Eliminate hazards from roadways
Dead trees and other vegetation can prevent roadways from being cleared of snow and ice quickly. And they can obstruct traffic signals, endangering pedestrians and drivers. Often, cleaning up a road of dead trees may require the removal of more hazardous vegetation.
3. Clean and Safe Streets
Most urban landscapes have a number of trees and other large vegetation that has the potential to obstruct traffic signals and endanger pedestrians and cyclists. By eliminating these hazards, the traffic signal function is more reliable, the sidewalk is easier to use and the streets become safer for pedestrians.
4. Driveway safety
Tree branches can also interfere with vehicles and create a hazard on driveways. If the branch breaks while people are exiting their cars, it can cause injury or worse. Removing these hazards is a safe and easy process that leaves few traces of the work being done.
5. Building maintenance
Dead or damaged trees pose problems for building owners, as they may need to remove or trim trees in order to provide additional protection for their buildings or roof, or to prevent a serious problem. Many tree owners would prefer to leave their trees in place, however the upkeep and removal of dead or damaged trees can be extremely costly and time-consuming. Removal of trees will also prevent further damage to structures.
6. Convenience
Because of disease or damage, the removal of trees is increasing. It is safer for the trees if professionals remove the tree to prevent damage or reduce the chances of them falling over. According to the stats, many of the large trees near the waterways or near houses may cause a danger to the public as they may come down. As a result, you should call experts to remove the fallen trees as soon as possible.
7. It is a proven process
Removing dead trees is time-consuming and cost-consuming. When one comes across dead trees, there are bound to be safety concerns, whether they have fallen on a driveway or road, or taken out a power line. Tree removal and excavation experts ensure that trees are safely removed. And they provide homeowners and communities with a well-planned landscape environment.
Choose Your Dead Tree Removal Provider
Choosing a dead tree removal service can be difficult, especially if you are not familiar with the various companies in your area. If you don't have enough information, you might make a poor decision, putting yourself at risk of an unpleasant outcome and potentially having to remove the tree yourself.
Start by finding out which resources are available to you in your areas, such as tree care businesses or associations. Working with people who are familiar with the landscape in which you live. As they have experience in the field and will help you make an informed decision about the best tree removal service.
Do not rush into the decision, and give yourself time to find the right team. Once you have a company in mind, ask for samples of their work so you can understand exactly what services you are looking for. However, you can get Baxter's tree services for dead trees excavation.
Baxter's tree service
When you decide to remove a tree, you want to ensure that it is done safely. The right tree removal service will use the proper tools and equipment, and will use trained personnel and skilled workers. If the job requires more than one team, make sure that you hire people that you know and trust. Also, make sure that you are clear on the details of what will be removed and where.
Baxter's tree services provide professional dead tree removal services for residential, commercial, and other large-scale properties. They are trained, licensed, insured, and always have expert knowledge in many regions of expertise. They are always available to work within your time and budget to ensure that you are satisfied with the service.
Wrapping – Up!
Choosing a professional dead tree removal service is the best way to ensure that your living space is not affected by the fall of the trees. Baxter's tree service is best in concern with dead tree removal. They provide a comprehensive service to remove all the tree and clear the area. When working with an expert, you will be assured of their good work, as they use the best equipment and skilled people, leaving you with a safer environment.
Leave your mail and tell them where you live and what type of trees you have in your area. Baxter's tree services are available for your immediate help.
Also, Find more information relating to dead tree removal, and Baxter's tree services here.