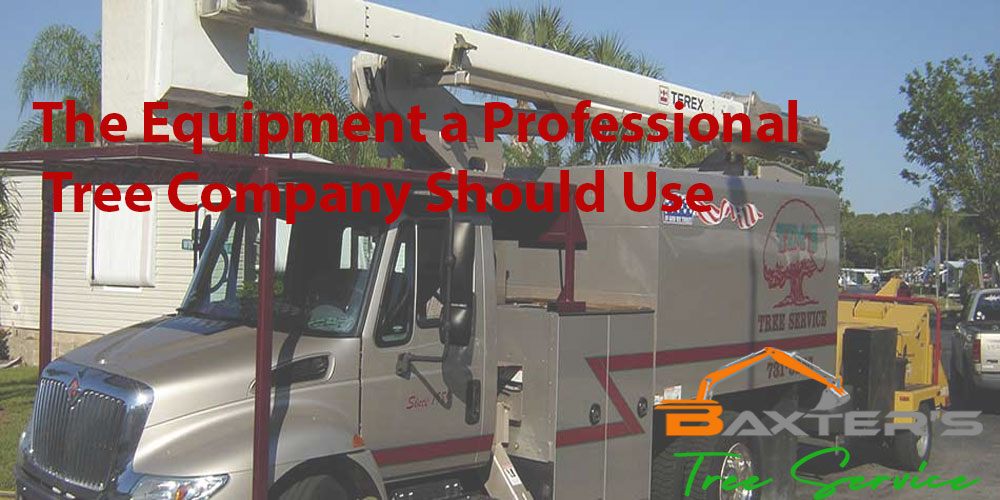 When you hire a professional tree company to perform services such as pruning, trimming, or removal, you need to make sure they have the right equipment. This is especially true if you are dealing with a large tree that might be difficult to climb, such as an oak tree. Here are some of the most common tree-care tools and equipment that you should look for when hiring a tree service.
The right types of tree removal equipment are important for companies because they will help you accomplish your goals. In addition to providing you with more options, a good set of equipment can also protect the workers from injury during the job. There are many different types of tree care equipment available, but there are a few that you should look for when hiring a tree service.
Types of Equipment Used by Tree Service Professionals
Tree Trimmer-Pruner:
A tree trimmer is an important piece of equipment that is used to trim the branches and foliage of trees. It is important to choose a trimmer that can be attached to a power source such as electricity or gas. The professional tree company should make sure that the trimmer is capable of handling the size of the tree that you have and that it has the ability to reach the lowest branches. There are different types of trimmers available on the market, including circular saws, pruners, and pole saws.
Wood chippers cut the tree pieces down into mulch.
Another type of equipment that is important to have any professional tree company should use to cut the tree down into smaller pieces. In addition to making the job easier, a wood chipper can also make the job safer. When a tree is being cut down, the wood chipper is the safest way to do it.
A Backhoe Loader:
An important piece of equipment used by many tree companies. It is typically used to dig holes for planting trees or shrubs and to remove fallen trees. The backhoe is usually mounted on the front of a truck or tractor, which makes it easier for the driver to maneuver in tight spaces.
A bucket truck is needed to move large branches:
Bucket trucks can be used to move trees and large branches in order to reach areas that are hard to get to. They have the ability to lift and hold up to 30 tons, so it can be difficult for a single worker to move and move big loads. This is why having a bucket truck on hand will allow you to easily move those heavy items, which means you can save time and money.
Chainsaw:
Properly maintaining chainsaws is an essential part of the tree-care process. Regular inspections and sharpening can ensure efficient operation. In addition, proper chainsaw maintenance can prolong their lives and protect users from injury. Listed below are some other essential equipment needed for tree care.
A chainsaw is necessary to complete any tree-pruning job. Professional tree service equipment companies use professional-level chainsaws. Homeowners can use a homeowner-level chainsaw, but the equipment for tree removal used by professional tree companies is often updated. If a company uses outdated equipment, look elsewhere for service. Among the common chainsaw brands used by professional tree service companies are Husqvarna and Stihl.
Pole saw:
There are many reasons a professional tree company should use a pole saw. The saw itself is a powerful piece of equipment. Always read the manufacturer's manual and follow any safety instructions, especially regarding overhead power lines. Also, be aware that a pole saw is more difficult to control when it is extended. A manual-operated pole saw should be used only by experienced users. If you are inexperienced in using a pole saw, contact your local power company to get proper training.
The blade of a pole saw has beveled edges and alternately offset teeth. A good way to sharpen a pole saw is by clamping the blade with its exposed gullets facing upwards. This will minimize chattering and ensure the blade is perfectly aligned. You should file the alternate gullets at the same angle, and be sure to hold it at an angle of 65 degrees. A wrongly angled branch collar pruning wound can cause unnecessary damage to the tree.
Scissor lift:
When hiring a tree service company, one of the most important pieces of equipment they should have is a scissor lift. A scissor lift allows workers to access higher places than they could otherwise. Depending on your needs, you can choose a model with electric power or one with diesel fuel. Both models can be used indoors and outdoors, and some even have non-marking tires.
When purchasing a scissor lift, be sure to consider the tasks that the machine can perform. First, consider how high you'll need to work. In most cases, scissor lifts extend between ten and sixty feet. Some can even extend partially. Just be sure to follow the manufacturer's instructions and take care not to fall out while working. You should also consider the heights of roofs and rafter sections before purchasing a scissor lift.
The Terex XT Pro 56 is an excellent forestry bucket truck, and is available with a choice of chassis. This truck features a working height of 61 feet, an 11′ chip box, and ample tool storage. The bucket has dual hydraulic tool connections at the platform and is available under CDL. This truck is perfect for line clearance and any company that needs a "do all" truck.
Rigging equipment:
There is a variety of rigging equipment a professional tree company should use. The safety of the workers and the reputation of the company depend on the quality of the equipment they used. WesSpur provides a variety of rigging equipment, including arborist blocks and mechanical advantage systems, loopie slings, dead-eye slings, and traditional tools. Here are some of the best pieces of rigging equipment a professional tree service provider should use.
The Final Words
If you want to get your tree service business off the ground, you need to take advantage of the most advanced technology available. This means that you need to invest in the latest tools and equipment that will allow you to do your job better, faster, and more efficiently. Baxter Tree Service provides you with all professional tree services. Feel free to contact us.